'Baby Duesenberg'

Background

The prototype, known as "baby Duesenberg", was designed in 1933. The car featured streamlined styling with running boards absent; it had two outrigger radiators and inboard retractable headlamps. The prototype was built by coachbuilder Walker. To my knowledge the car did not survive. The design of the car is presented in (at least) three different patents; see the first three references in the reference list. All the patents are available online on the website of the US Patent Office. Both Duesenberg, Inc. and Auburn Automobile Company were divisions of the Cord Corporation. At some point the 'baby Duesenberg' project was abandoned. Later however an Auburn version of the car based on some of the concepts of the former project was built. This automobile, that would eventually become Cord 810 sedan, was also designed by Gordon Buehrig (see references 4 and 5). At this stage the car still had the retractable headlamps in the style of the "baby Duesenberg", however some differences are noticeable, see Figure 1 for details. Unlike the Cord, "baby Duesenberg" was a rear-wheel driven car, as directly stated in the patent 2,078,067. The car was likely built on the standard 1934 Auburn chassis with a Lycoming series GG engine (thanks to Randy Ema for the information). Although at the same time the development of a new front wheel drive chassis and a V8 engine was ongoing.

Modelling

Modelling of "baby Duesenberg" was rather difficult as I had neither plan drawings nor dimensions, and the only sources of data available were the (inaccurate) patent drawings and the archive photographs kindly provided by Josh Malks. The outline of the car was extracted from the photographs by removing perspective distortions (see Figure 2). No data on the interior of the car was possible to find. The only known interior feature is the headlamp switch mounted in the center of the dashboard (see figures in patent 2,084,120).

The car was clearly painted with a light color, but the exact hue is unknown to me. The pale blue used for the model is based on the drawing by John Dunscombe from a booklet issued by "Profile Publications" number 35 in 1966 (thanks to Claude Rozier for the information).

I tried to render the model from the same camera angles as in the archive photographs. Some errors in the model are apparent. However, considering the limited amount of data, the results are satisfactory.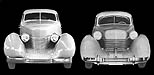 Figure 1. Comparison between "Baby Duesenberg" and E306 Cord prototype; Click on a thumbnail to view a full-size image.


Figure 2. Extraction of the silhouette of the car from the side view images

References

1. Design for an automobile, patent number Des. 93,451 (Gordon Miller Buehrig; Oct. 2, 1934)
2. Cooling system for automobile engines, patent number 2,078,067 (August Duesenberg; April 20, 1937).
3. Headlight structure, patent number 2,084,120 (Harold T. Ames; Jun. 15, 1937)
4. Design for an automobile, patent number Des. 97,697 (Gordon Miller Buehrig; Dec. 2, 1935)
5. Design for an automobile hood structure, patent number Des. 99,973 (Gordon Miller Buehrig; Jun. 9, 1936)

Images (Click on a thumbnail below to view a full-size image)